Credit cards continue to take the world by storm. Businesses must follow the trend, providing customers with plenty of payment options. While large scale businesses can adapt without care, small businesses need affordable options. Nowadays, even the smallest shops ran from homes can accept credit cards thanks to a credit card machine. These range from convenient additions to smartphones all the way to Wi-Fi-powered machines that transport easily.
Adding a credit card machine for small businesses to your payment options can bring more business about. The only problem when starting your search is, where to begin. Businesses want solutions for on the go payments that make sense.
Merchant Payment Solutions
The more versatile a company is with the types of payments they accept, the more business they will wind up doing. Offering customers a way to pay in-store or on the go is now easier than ever.
The point is to give customers a hassle-free experience. The more satisfied clients, the more likely they will be to repeat business.
Before deciding which payment options benefit customers, think about day to day transactions. The options you should offer are:
Online
More and more customers are turning to buy online. It is more convenient and takes seconds to process. Because of customer preference, accepting online payments is necessary.
In-Store
Just because online shopping has increased doesn't mean stores are obsolete. Depending on your product, your clientele might prefer stepping in-store.
It is always best to have in-store options. This is the most traditional and the easiest.
On the Go
As the new kid on the block, on the go payment options are on the rise.  Using a portable credit card machine offers clients the option to pay anywhere and anytime. Today's mobile payments are quick to process and safe. Using a Wi-Fi connection, these systems are the newest and fastest way to get paid.
Top Wireless Credit Cards Machines
When deciding on a credit card machine, there are a few things to consider. Some machines attach to smartphones while others can pack up and sit on surfaces for swiping.
You can find just about anything these days. Plus, because of the rise of popularity, the market is flooded with options. It could get a bit overwhelming, hunting for the perfect credit card machine.
That's why we compiled a list of the best portable credit card terminals out there. Adding an option to pay will enhance customer experience, bringing you and your business more successful.
1. SumUp Air
This machine is small but packs a punch. It allows businesses to accept payments from all major credit cards including Visa and Mastercard.
It accepts smartphone payments as well, all without any monthly fees or costs. Transaction fees only come out to 1.95%, a competitive rate compared to the competition.
2. Ingenico iWL Series
Ingenico has a reputation for payment solutions. Apart from the traditional countertop card machines, they offer portable options. The iWL series connects to Wi-Fi or Bluetooth, accepting payments from smartphones and major credit cards.
It's got a powerful lifespan, allowing 650 transactions on a single charge. A powerful machine that can be taken on the go is what you'll get with this one.
3. Worldpay
This is a super affordable option that comes with a one-year warranty. Pay in person or over the phone with the little handheld device.
After the transaction is complete, receipts come via email or SMS. This credit card machine provides options for global payments, accepting several payment methods.
4. Square
This popular little swiper fits into the audio jack of any smartphone. It connects to Wi-Fi where payments can process anywhere, both on the road and in-store.
This was one of the first companies out there to offer payments on the go, having time to work out any kinks. It packs strong encryption, keeping sensitive information safe.
5. iZettle
iZetter is a super competitor compared to others. They offer portable payment options with zero monthly fees. This machine is small and lightweight and accepts all credit and debit cards.
When charged up, it will run for up to eight hours. This is a great option for versatile payments that pack up nicely for little to no cost.
Lowest Credit Card Processing Rates
Accepting credit cards doesn't come for free. Each transaction is subject to fees for processing.
These are small fees but, just like any business, you want the best deal. Companies want to be able to hold onto most of their money, not losing it to large processing fees. Options for the cheapest credit card processing exists but, you may have to dig to find them.
Here, we will set out the averages so you can have an idea of which credit card machine will give you the best bang for your buck.
Before going into average fees, we need to point out one thing. The fees that your business will pay depends on several factors. Things like your sales, business risk, and types of transactions factor in your rate.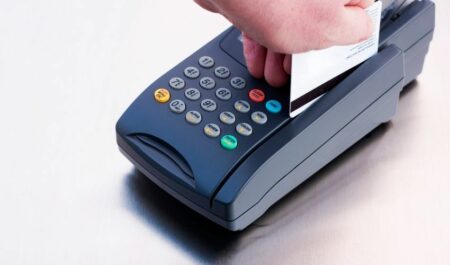 This all has to do with processing fees and a fee for the financial risk taken by the bank. They attempt to decrease their risk and keep themselves safe from financial harm.
The average per swipe is anywhere from 1.5% to 2.9%. When you have to type them in, you're looking at 3.5%. The four major credit cards used across the globe come with their own fees.
This is why some stores will only accept a few and not all.  Breakdown of the average fees are:
Visa – 1.43% to 2.4%
Mastercard – 1.55% to 2.6%
American Express – 2.5% to 3.5%
Discover – 1.56% to 3.5%
Should I Purchase a Portable Credit Card Machine?
Many positives come from the purchase of a credit card machine. To find out if it is a good option for your business, you can consider a few things. Think about the type of purchases your customers are making daily.
Where are they making them and how often? Could businesses benefit from accepting payments on the go? Once you've answered these questions, the choices will become more clear.
If you've decided on a portable credit card machine, then, it's time to think about fees. Take a look at the pros and cons of accepting all debit and credit cards. Also, take a look at any added fees that could come with processing the transaction.
The key is to keep most of the money in your pocket. To accomplish this, go with a machine and a system that offers your company the best deal.
The Final Thought
The business has evolved. There are so many options for both customers and companies. As we continue the evolution online, companies have to do what they can to adapt.
It becomes survival of the fittest out there, and only those who are adapting will survive. Nowadays, offering clients more options to make for a convenient experience.
The more convenience offered to customers, the better the business. To hop on the bandwagon and begin offering customers more of what they want, check out portable credit card machines.
You can take it on the go and process payments anywhere in the world, taking your business to the next level.